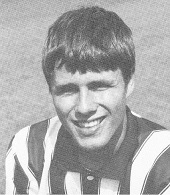 #

3

Name

Toby Redwood

Nationality

England

Position

Defender

Current Team

Exeter City

Leagues

Autoglass Trophy, D2, Division 3, FA Cup

Age

46
Toby Redwood joined Exeter City on schoolboy forms in November 1988, becoming a trainee and he then turned professional in June 1992. He only stayed three seasons before Redwood moved on to sign for Dorchester Town.
His father, Barry, also played for the Grecians.
Autoglass Trophy
| Season | Club | Appearances | Started | On as sub | Yellow Cards | Red Cards | Goals |
| --- | --- | --- | --- | --- | --- | --- | --- |
| 1992/93 | Exeter City | 2 | 1 | 1 | 0 | 0 | 0 |
| 1993/94 | Exeter City | 2 | 2 | 0 | 0 | 0 | 0 |
| Total | - | 4 | 3 | 1 | 0 | 0 | 0 |
D2
| Season | Club | Appearances | Started | On as sub | Yellow Cards | Red Cards | Goals |
| --- | --- | --- | --- | --- | --- | --- | --- |
| 1992/93 | Exeter City | 1 | 0 | 1 | 0 | 0 | 0 |
| 1993/94 | Exeter City | 3 | 2 | 1 | 0 | 0 | 0 |
| Total | - | 4 | 2 | 2 | 0 | 0 | 0 |
Division 3
| Season | Club | Appearances | Started | On as sub | Yellow Cards | Red Cards | Goals |
| --- | --- | --- | --- | --- | --- | --- | --- |
| 1991/92 | Exeter City | 1 | 1 | 0 | 0 | 0 | 0 |
| Total | - | 1 | 1 | 0 | 0 | 0 | 0 |
FA Cup
| Season | Club | Appearances | Started | On as sub | Yellow Cards | Red Cards | Goals |
| --- | --- | --- | --- | --- | --- | --- | --- |
| Total | - | | | | | | |
Career Total
| Season | Appearances | Started | On as sub | Yellow Cards | Red Cards | Goals |
| --- | --- | --- | --- | --- | --- | --- |
| 1991/92 | 2 | 1 | 1 | 0 | 0 | 0 |
| 1992/93 | 3 | 1 | 2 | 0 | 0 | 0 |
| 1993/94 | 5 | 4 | 1 | 0 | 0 | 0 |
| Total | 10 | 6 | 4 | 0 | 0 | 0 |
| Date | Home | Results | Away | Time |
| --- | --- | --- | --- | --- |
| 1994-03-26 15:00:38March 26, 1994 | Exeter City | - | Brighton & Hove Albion | 15:00:383:00 pm |
| 1994-03-22 19:45:05March 22, 1994 | Barnet | - | Exeter City | 19:45:057:45 pm |
| 1994-03-15 19:03:59March 15, 1994 | Exeter City | 1 - 0 | Bristol Rovers | 19:03:597:03 pm |
| 1994-03-12 15:00:58March 12, 1994 | Wrexham | - | Exeter City | 15:00:583:00 pm |
| 1994-02-12 15:00:08February 12, 1994 | Exeter City | - | Rotherham United | 15:00:083:00 pm |
| 1994-02-05 15:00:43February 5, 1994 | Blackpool | - | Exeter City | 15:00:433:00 pm |
| 1993-11-09 19:45:56November 9, 1993 | Exeter City | 1 - 0 | Plymouth Argyle | 19:45:567:45 pm |
| 1993-10-23 15:00:28October 23, 1993 | Exeter City | - | Blackpool | 15:00:283:00 pm |
| 1993-10-19 19:45:24October 19, 1993 | Swansea City | 2 - 0 | Exeter City | 19:45:247:45 pm |
| 1993-10-16 15:00:35October 16, 1993 | Stockport County | 4 - 0 | Exeter City | 15:00:353:00 pm |
| 1993-09-15 19:30:51September 15, 1993 | Bristol Rovers | 1 - 1 | Exeter City | 19:30:517:30 pm |
| 1993-03-13 15:00:25March 13, 1993 | Exeter City | 3 - 1 | Hartlepool United | 15:00:253:00 pm |
| 1993-02-17 19:45:48February 17, 1993 | Brighton & Hove Albion | 0 - 1 | Exeter City | 19:45:487:45 pm |
| 1992-12-08 19:45:02December 8, 1992 | Exeter City | 5 - 0 | Torquay United | 19:45:027:45 pm |
| 1991-11-27 19:45:25November 27, 1991 | Exeter City | 0 - 0 | Colchester United | 19:45:257:45 pm |
| 1991-09-04 19:30:30September 4, 1991 | Exeter City | 1 - 0 | Torquay United | 19:30:307:30 pm |